AV DISTRIBUTION
Audio and video where you need it
---
A range of professional high-quality AV distribution equipment makes it easy to split, extend or duplicate AV from a variety of sources and expand your AV system.
We have access to 1000's of quality products. If you can't find the AV distribution equipment you're looking for, please contact us for price and availability.
Connectec are a trade distributor of professional AV equipment from leading brands like Antiference, Monitor Audio, SAC, Blake and many more.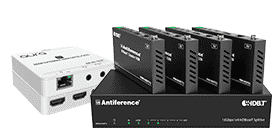 ---
Top Brands in AV Distribution
Best Sellers in AV Distribution