AV, TV & SATELLITE
Professional audio and video
---
A range of user and installer friendly TV, AV & Satellite products at trade prices including aerials, masts, speakers, monitors, display screen, AV distribution, adaptors and cabling.
Connectec are a trade supplier and wholesale distributor for a wide range of AV, TV & Satellite products, and are an authorised distributer of Monitor Audio speakers, amplifiers and accessories.
We stock everything you'll need for professional or home installations either online or in store at our trade counter where you'll find an extensive range of products along with helpful advice and support.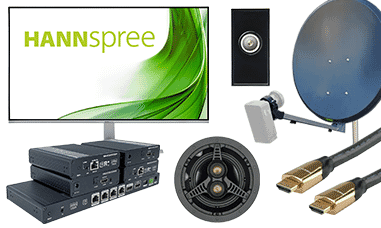 ---
Top Brands in AV, TV & Satellite
Best Sellers in AV, TV & Satellite