A range of high quality outdoor CCTV warning signs made from durable materials and designed to comply with current data protection regulations.
Quality
Our high quality outdoor CCTV warning stickers and signs are printed on tough, laminated, waterproof, tear, UV and abrasion resistant polypropylene.
The signs are available as pre-cut self adhesive stickers or mounted on either on lightweight Correx corrugated plastic, tough rigid foamex PVC foam board or heavy duty aluminium di-bond boards.

Data Protection
The CCTV warning signs contain all the necessary information to comply with GDPR and the Data protection act including sections to be filled in by the system owner. The information on the sign details the purpose of the CCTV system, the contact details for people requiring more information and who the registered data controller is for the system. There is also a footnote to reassure your customers that your CCTV system is used and has been installed in a manner that complies with data protection regulations and considers their privacy.
Design
There is a space on all 3 size signs for the application of your own 120 x 50 mm sticker displaying your company logo or information.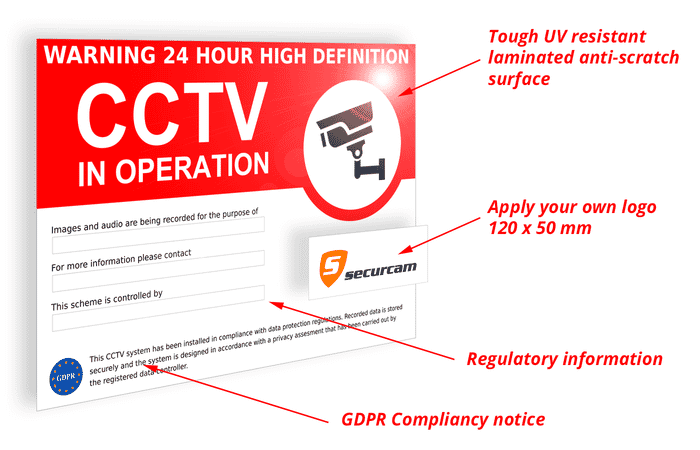 The stickers and signs are available in 3 sizes. A5, A4 and A3.