PERSONAL SECURITY
Stay safe, stay connected.
---
A range of professional high-quality personal security products designed to ensure the safety of staff and uninterrupted communication between locations over long distances. We stock a range of 2-way radios and accessories that are ideal for use in remote locations and as emergency communication devices thanks to their powerful transmitters and long battery life
We have access to 1000's of quality products. If you can't find the networking equipment you're looking for, please contact us for price and availability.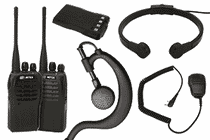 ---
Top Brands in Personal Security
Best Sellers in Personal Security