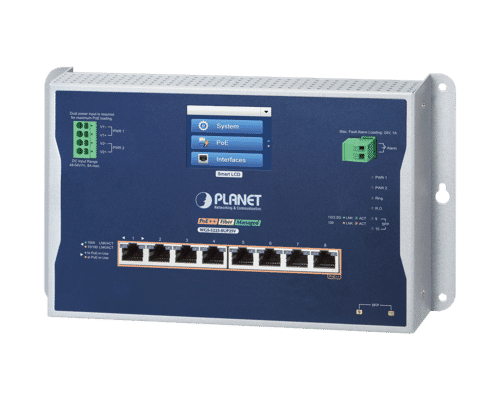 Planet WGS-5225-8UP2SV 8-Port Industrial Gigabit Wall-mounted PoE+ Switch 2xSFP
8 PoE Ports
Wall Mounted
10/100/1000BASE-T
The PLANET WGS-5225-8UP2SV is an Industrial slimline wall-mount PoE++ Managed Switch with LCD Touch Screen featuring PLANET intelligent PoE functions (Read more)
More Information
PRODUCT DETAILS
The PLANET WGS-5225-8UP2SV is an Industrial slimline wall-mount PoE++ Managed Switch with LCD Touch Screen featuring PLANET intelligent PoE functions to improve the availability of industrial applications. It provides IPv6/IPv4 dual stack management and built-in L2+/L4 Gigabit switching engine along with eight 10/100/1000BASE-T ports featuring 95-watt PoE and two additional 100/1000/2500BASE-X SFP ports. With a total power budget of up to 720 watts for different kinds of PoE applications, and featuring networking speed and operating temperature ranging from -20 to 70 degrees C in a compact but rugged IP30 metal housing, the WGS-5225-8UP2SV is an ideal solution to meet the demand for the following network applications
The WGS-5225-8UP2SV comes with an intuitive touch panel on its front panel that facilitates the Ethernet PoE PD management that greatly promotes management efficiency in large-scale networks, such as enterprises, hotels, shopping malls, government buildings, and other public areas. It also features the following special management and status functions:
IP address, VLAN and QoS configuration
PoE management and status
Port management and status, and SFP information
Troubleshooting: cable diagnostic and remote IP ping
Maintenance: reboot, factory default and save configuration
Applications
Security Building Automation Switch
Suitable for buildings where security is strictly to be enforced, the WGS-5225-8UP2SV offers a comprehensive Layer 2 to Layer 4 Access Control List (ACL). The switch can restrict network access by denying packets based on source and destination IP address, TCP/UDP ports or defined typical network applications. With the WGS-5225-8UP2SV, a tightly-controlled network can be easily had in no time.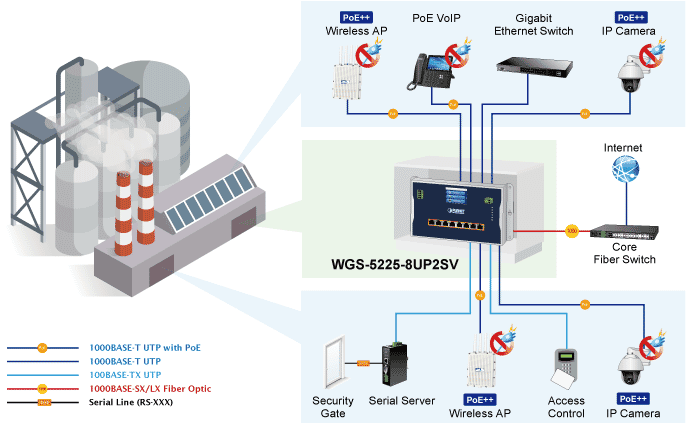 Different Networks Managed by One Control Center
Providing up to 8 PoE++, in-line power interfaces, the WGS-5225-8UP2SV can centrally manage power supplying to an industrial network system where IP phones, IP cameras, wireless APs and more are built. For instance, 8 PoE IP cameras or wireless access points can be easily installed around the corner in the industrial environment for surveillance demands or for a wireless roaming network. Without the power-socket limitation, the WGS-5225-8UP2SV makes the installation of IP cameras and wireless APs easier and more efficient.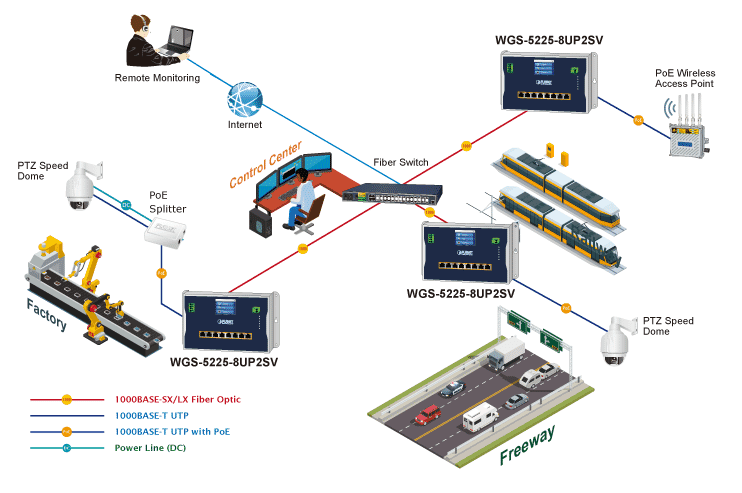 Features:
Physical Port
8 10/100/1000BASE-T Gigabit Ethernet RJ45 ports with IEEE 802.3bt PoE++ Injector function
2 100/1000/2500BASE-X SFP slots for SFP type auto detection
Industrial Case and Installation
IP30 aluminum case
Supports -20 to 70 degrees C operating temperature
Supports ESD 6KV DC Ethernet protection
Dual power input design

48V~54V DC wide power input with reverse polarity protection

Compact size with fixed wall-mounted design
Power over Ethernet
Complies with IEEE 802.3bt Power over Ethernet Plus Plus PSE
Backward compatible with 802.3at PoE+ end-span or mid-span PSE
Up to 8 IEEE 802.3af/802.3at/802.3bt devices powered
Supports PoE power up to 95 watts for each PoE port
Auto detects powered device (PD)
Circuit protection prevents power interference between ports
Remote power feeding up to 100m
PoE management features

Total PoE power budget control
Per port PoE function enable/disable
PoE admin-mode control
PoE port power feeding priority
Per PoE port power limit
PD classification detection
Sequence port PoE
PoE extend mode control to support power feeding up to a distance of up to 160 meters
Auto maximum PoE budget control by power input detection

Intelligent PoE features

PoE usage threshold control
PD alive check
PoE schedule
Industrial Protocol
Modbus TCP for real-time monitoring in SCADA system
IEEE 1588v2 PTP (Precision Time Protocol) transparent clock mode
Layer 3 IP Routing Features
Supports maximum 32 static routes and route summarization
Routing interface provides per VLAN routing mode
Layer 2 Features
Storm Control support

Broadcast/Multicast/Unicast

Supports VLAN

IEEE 802.1Q tagged VLAN
Provider Bridging (VLAN Q-in-Q) support (IEEE 802.1ad)
Private VLAN Edge (PVE)
Protocol-based VLAN
MAC-based VLAN
Voice VLAN
GVRP (GARP VLAN Registration Protocol)

Supports Spanning Tree Protocol

IEEE 802.1D Spanning Tree Protocol (STP)
IEEE 802.1w Rapid Spanning Tree Protocol (RSTP)
IEEE 802.1s Multiple Spanning Tree Protocol (MSTP), spanning tree by VLAN
BPDU Guard/BPDU Filtering

Supports Link Aggregation

802.3ad Link Aggregation Control Protocol (LACP)
Cisco ether-channel (static trunk)
Maximum 2 trunk groups with 2 ports per trunk group
Up to 10Gbps bandwidth (duplex mode)

Provides port mirror (many-to-1)
Port mirroring to monitor the incoming or outgoing traffic on a particular port
Loop protection to avoid broadcast loops
Supports ERPS (Ethernet Ring Protection Switching)
Compatible with Cisco Uni-directional link detection (UDLD) that monitors a link between two switches and blocks the ports on both ends of the link if the link fails at any point between the two devices
Link Layer Discovery Protocol (LLDP)
Quality of Service
Ingress Shaper and Egress Rate Limit per port bandwidth control
8 priority queues on all switch ports
Traffic classification

IEEE 802.1p CoS
IP TOS/DSCP/IP precedence
IP TCP/UDP port number
Typical network application

Strict priority and Weighted Round Robin (WRR) CoS policies
Supports QoS and In/Out bandwidth control on each port
Traffic-policing on the switch port
DSCP remarking
Multicast
Supports IPv4 IGMP Snooping v1, v2 and v3
Supports IPv6 MLD Snooping v1 and v2
Querier mode support
IPv4 IGMP Snooping port filtering
IPv6 MLD Snooping port filtering
MVR (Multicast VLAN Registration)
Security
Authentication

IEEE 802.1x Port-based / MAC-based network access authentication
Built-in RADIUS client to cooperate with the RADIUS servers
TACACS+ login users access authentication
RADIUS/TACACS+ users access authentication
Guest VLAN assigns clients to a restricted VLAN with limited services

Access Control List

IP-based Access Control List (ACL)
MAC-based Access Control List

Source MAC / IP address binding
DHCP Snooping to filter un-trusted DHCP messages
Dynamic ARP Inspection discards ARP packets with invalid MAC address to IP address binding
IP Source Guard prevents IP spoofing attacks
Auto DoS rule to defend DoS attack
IP address access management to prevent unauthorized intruder
Management
IPv4 and IPv6 dual stack management
Switch Management Interfaces

Telnet Command Line Interface
Web switch management
SNMP v1, v2c, and v3 switch management
SSHv2 and TLSv1.2 secure access

SNMP Management

Four RMON groups (history, statistics, alarms, and events)
SNMP trap for interface Link Up and Link Down notification

IPv6 IP address/NTP/DNS management
Built-in Trivial File Transfer Protocol (TFTP) client
BOOTP and DHCP for IP address assignment
System Maintenance

Firmware upload/download via HTTP/TFTP
Reset button for system reboot or reset to factory default
Dual Images

DHCP Relay and DHCP Option 82
DHCP Server
User Privilege levels control
Network Time Protocol (NTP)
Network Diagnositc

ICMPv6/ICMPv4 Remote Ping
Cable diagnostic technology provides the mechanism to detect and report potential cabling issues
SFP-DDM (Digital Diagnostic Monitor)

SMTP, Syslog and SNMP trap remote alarm
System Log
PLANET UNI-NMS (Universal Network Management) and Smart Discovery Utility for deployment management
Provides ONVIF for co-operating with PLANET video IP surveillances
SPECIFICATIONS
Environment
Standards Conformance
Management Functions
Security Functions
Layer 2 Function
Layer 3 Functions
PoE Management Functions
Power Over Ethernet
Switching Specifications
Hardware Specifications
Copper Ports
8 10/100/1000BASE-T RJ45 auto-MDI/MDI-X ports
SFP Slots
2 100/1000/2500BASE-X SFP interfaces
Compatible with 100BASE-FX, 1000BASE-SX/LX/BX and 2500BASE-X SFP transceivers
PoE Injector Port
8 ports with 802.3bt PoE++ injector function with Port-1 to Port-8
RAM
128MBytes
Flash Memory
64MBytes
Reset Button
< 5 sec: System reboot
> 5 sec: Factory Default
Connector
4-pin terminal block for power input
-Pin 1/2 for Power 1 (Pin 1: V+ / Pin 2: V-)
-Pin 3/4 for Power 2 (Pin 3: V+ / Pin 4: V-)
2-pin terminal block for event alarm
Alarm
One relay output for power failure. Alarm Relay current carry ability: 1A @ 24V DC
Enclosure
IP30 aluminum case
Installation
Wall-mount
Dimensions (W x D x H)
245 x 36 x 140 mm
Weight
1,299g
Power Requirements
48~54V DC (>52V DC for PoE++ and PoE+ output recommended)
Dual power input is required for maximum power loading
Power Consumption
Max. 14.72 watts/50.23 7BTU@50V DC input (Power on without any connection)
Max. 375 watts/1280BTU@Single 54V DC input (Full loading with 360 watts PoE function)
Max. 752 watts/2566BTU@Dual 54V DC input (Full loading with 720 watts PoE function)
ESD Protection
6KV DC
LED Indicator
System:
- PWR 1(Green)
- PWR 2 (Green)
- Ring (Green)
- Ring Owner (Green)
Per 10/100/1000T RJ45 PoE++ Ports:
- 802.3bt PoE-in-Use (Green)
- 802.3af/at PoE-in-Use (Amber)
- 1000 LNK/ACT (Green)
- 10/100 LNK/ACT (Amber)
Per SFP Interface:
- 100 LNK/ACT (Amber)
- 1000/2500 LNK/ACT (Green)
Switch Architecture
Store-and-Forward
Switch Fabric
26Gbps/non-blocking
Throughput (packet per second)
19.345Mpps@ 64 bytes packet
Address Table
8K entries, automatic source address learning and aging
Shared Data Buffer
4Mbits
Flow Control
IEEE 802.3x pause frame for full duplex
Back pressure for half duplex
Jumbo Frame
9Kbytes
PoE Standard
IEEE 802.3bt PoE++ Type-4 PSE
Backward compatible with 802.3at PoE+ PSE
PoE Power Supply Type
- 802.3bt
- UPOE/POH
- End-span
- Mid-span
- Force
PoE Power Output
802.3bt PoE++
- Per port 52V~56V DC (depending on the power supply), max. 90 watts
UPoE(PoH)
- Per port 52V~56V DC (depending on the power supply), max. 95 watts
IEEE 802.3at Standard
- Per port 52V~56V DC (depending on the power supply), max. 36 watts
Force
- Per port 52V~56V DC (depending on the power supply), max. 60 watts
Power Pin Assignment
End-span: 1/2 (-), 3/6 (+)
Mid-span: 4/5 (+), 7/8 (-)
802.3bt/UPoE: 1/2 (-), 3/6 (+),4/5 (+), 7/8 (-)
PoE Power Budget
48V Power input
- 125W maximum (depending on power input)
52~54V Power input
- Single power input: 360W maximum (depending on power input)
- Dual power input: 720W maximum (depending on power input)
※Dual power input must be the same as DC voltage, like dual 54V
Max. number of Class 3 PDs
8
Max. number of Class 4 PDs
8
Max. number of Class 8 PDs
8
Active PoE device alive detects
Yes
PoE Power Recycle
Yes, daily or predefinded schedule
PoE Schedule
4 schedule profiles
PoE Extend Mode
Yes, max. 160 to 200 meters
PoE System Management
System PoE Admin control
Total PoE power budget control
Auto power input and PoE budget control
PoE Legacy mode
Over-temperature threshold alarm
PoE usage threshold alarm
PoE Port Management
Port Enable/Disable/Schedule
PoE mode control
-802.3bt
-UPoE
-802.3at End-span
-802.3at Mid-span
-Force mode
Port Priority
IP Interfaces
Max. 8 VLAN interfaces
Routing Table
Max. 32 routing entries
Routing Protocols
Ipv4 software static routing
Ipv6 software static routing
Port Configuration
Port disable/enable
Auto-negotiation 10/100/1000Mbps full and half duplex mode selection
Flow control disable/enable
Port link capability control
Port Status
Display each port's speed duplex mode, link status, flow control status,
auto negotiation status, trunk status
Port Mirroring
TX/RX/both
Many-to-1 monitor
VLAN
IEEE 802.1Q tag-based VLAN
IEEE 802.1ad Q-in-Q tunneling
Private VLAN Edge (PVE)
MAC-based VLAN
Protocol-based VLAN
Voice VLAN
MVR (Multicast VLAN Registration)
GVRP
Up to 4K VLAN groups, out of 4094 VLAN IDs
Link Aggregation
IEEE 802.3ad LACP/static trunk
Supports 2 trunk groups with 2 ports per trunk group
Spanning Tree Protocol
IEEE 802.1D Spanning Tree Protocol
IEEE 802.1w Rapid Spanning Tree Protocol
IEEE 802.1s Multiple Spanning Tree Protocol
IGMP Snooping
Ipv4 IGMP (v1/v2 /v3) Snooping
Ipv4 IGMP Querier mode support
Up to 255 multicast Groups
MLD Snooping
Ipv6 MLD (v1/v2) Snooping
Ipv6 MLD Querier mode support
Up to 255 multicast Groups
Bandwidth Control
Per port bandwidth control
Ingress: 500Kb~1000Mbps
Egress: 500Kb~1000Mbps
RING
Supports ERPS, and complies with ITU-T G.8032
Recovery time < 10ms
Synchronization
IEEE 1588v2 PTP(Precision Time Protocol)
- Peer-to-peer transparent clock
- End-to-end transparent clock
QoS
Traffic classification based, strict priority and WRR
8-level priority for switching
- Port number
- 802.1p priority
- 802.1Q VLAN tag
- DSCP/TOS field in IP packet
Access Control List
IP-based ACL/MAC-based ACL
ACL based on:
- MAC Address
- IP Address
- Ethertype
- Protocol Type
- VLAN ID
- DSCP
- 802.1p Priority
Up to 256 entries
Security
Port security
IP source guard
Dynamic ARP inspection
Command line authority control based on user level
AAA
RADIUS client
TACACS+ client
Network Access Control
IEEE 802.1x port-based network access control
MAC-based authentication
Local/RADIUS authentication
Basic Management Interfaces
Telnet; Web browser; SNMP v1, v2c
Secure Management Interfaces
SSHv2, TLS v1.2, SNMPv3
System Management
Firmware upgrade by HTTP protocol through Ethernet network
Configuration upload/download through HTTP
LLDP protocol
NTP
PLANET Smart Discovery Utility
Event Management
Remote Syslog
System log
SMTP
ONVIF
ONVIF device discovery
ONVIF device monitoring
Floor Map
SNMP MIBs
RFC 1213 MIB-II
IF-MIB
RFC 1493 Bridge MIB
RFC 1643 Ethernet MIB
RFC 2863 Interface MIB
RFC 2665 Ether-Like MIB
RFC 2819 RMON MIB (Groups 1, 2, 3 and 9)
RFC 2737 Entity MIB
RFC 2618 RADIUS Client MIB
RFC 2933 IGMP-STD-MIB
RFC 3411 SNMP-Frameworks-MIB
IEEE 802.1X PAE
LLDP
MAU-MIB
Power over Ethernet MIB
Regulatory Compliance
FCC Part 15 Class A, CE
Stability Testing
IEC60068-2-32 (free fall)
IEC60068-2-27 (shock)
IEC60068-2-6 (vibration)
Standards Compliance
IEEE 802.3 10BASE-T
IEEE 802.3u 100BASE-TX/100BASE-FX
IEEE 802.3z Gigabit SX/LX
IEEE 802.3ab Gigabit 1000T
IEEE 802.3x flow control and back pressure
IEEE 802.3ad port trunk with LACP
IEEE 802.1D Spanning Tree Protocol
IEEE 802.1w Rapid Spanning Tree Protocol
IEEE 802.1s Multiple Spanning Tree Protocol
IEEE 802.1p Class of Service
IEEE 802.1Q VLAN tagging
IEEE 802.1X Port Authentication Network Control
IEEE 802.1ab LLDP
IEEE 802.3ah OAM
IEEE 802.3af Power over Ethernet
IEEE 802.3at Power over Ethernet Plus
IEEE 802.3bt Power over Ethernet Plus Plus
RFC 768 UDP
RFC 793 TFTP
RFC 791 IP
RFC 792 ICMP
RFC 2068 HTTP
RFC 1112 IGMP v1
RFC 2236 IGMP v2
RFC 3367 IGMP version 3
RFC 2710 MLD version 1
RFC 3810 MLD version 2
ITU-T G.8032 Ethernet Ring Protection Switching
Operating Temperature
-20 ~ 70 degrees C
Storage Temperature
-40 ~ 85 degrees C
Humidity
5 ~ 95% (non-condensing)
USEFUL FILES AND LINKS
Videos
-- No videos available --
* External websites provide additional content that supports the content on connectec.uk however the external Web site is subject to change and is beyond the control of Connectec Ltd. Connectec cannot guarantee the accuracy of content on external websites and does not endorse the information or products on any external websites. You will be subject to the external websites own privacy policy when you follow these links.
QUESTIONS AND ANSWERS
Get expert answers to questions specific to this product below or for more help visit our Q & A forum
Be the first to ask a question and help others interested in this product
REVIEWS
Thanks for taking the time to review this product.
Your feedback helps us improve our products and services as well as helping other users make informed buying decisions.
There are no reviews for this product.
Why buy from Connectec?

SUPPORT
Our technical support team are experienced installation engineers with years of field experience.

SERVICE
Customer service is our top priority. We always try to ensure we offer a first class service too all our customers.

DELIVERY
We offer FREE mainland UK delivery on orders over £75 and FREE next day delivery on orders over £150*.
* Qualifying products only, subject to terms. For more information view our delivery information.